The Michael & Son Story
From Humble Beginnings to Domination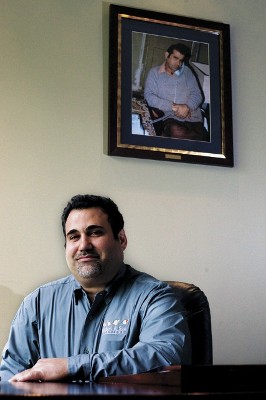 It all got started in 1976 by my father Mousa "Mike" Mansour, with the help of my mother Siham "Suzi". My Father had a typical immigrant's story; he quit school at the age of twelve and learned to be an electrician to work and support his family. After immigrating to America in 1968, he found work as a union electrician during the day and moonlighted as an independent entrepreneur, servicing personal customers on nights and weekends. I often tagged along with my father at a young age when I wasn't in school. I enjoyed working with him and cherished the strong father and son bond we developed. My father wasn't a wealthy man but he provided me with a wealth of knowledge and invaluable experiences building the foundation for both the technical skills and values that define what Michael & Son is today.
On June 1, 1990, my Father passed away suddenly at the age of 47. I was 19 years old and just starting college when I was unexpectedly forced to take over the family business. Like my father before me, I left school to care for a younger sister and my mother. In the midst of a recession, with many well established companies failing, we overcame the growing pains and flourished. In 1999, after experimenting in many areas of the business, I decided to focus strictly on residential services. We began advertising and building our company with the focus that our customers come first. If we were running late for a job and the customer was expecting us, we worked late. "Whatever was necessary for our customers" was our motto. As a result, we grew quickly. We've grown from having 3 trucks on the road in 1999 to having just over 600 trucks in 2017.
We added other divisions to our business including Plumbing in 2003 and HVAC in 2007. From our start in the Washington, DC area, we have expanded into Baltimore, MD, Richmond, VA, Charlottesville, VA, Norfolk, VA, Charlotte, NC, Raleigh, NC and Wilmington, NC. One of the reasons for this amazing growth is that I've been extremely fortunate to have surrounded myself with good managers and a staff of team players. We all believe in what my father taught me, which is – the customer comes first and take pride in your work. I strongly believe that we are the best service company out there. We work hard every day to improve ourselves and to exceed our customer's expectations. Together we can set a new standard for customer service in new markets – just like we have done in each of the markets we operate in today.
Our goal is to dominate the market for residential home services in each of our markets – so that every time a homeowner needs service, we are the obvious choice. If you have the same kind of ambition and value the same principles we do, then I want to work with you.
Sincerely,
Basim M. Mansour
Proud Son
President, Michael & Son Services, Inc.
CEO, The Foundry System, LLC